Structures are a stable set of elements that allow the transmission of static mechanical loads from an element to the ground. Therefore, the structures allow the support, subjection, or containment (total or partial) of an asset that is not on the ground or is not stable only with the ground.
A structural problem should be diagnosed when evidence is found that the stability of the structure is not guaranteed or shows signs of displacement.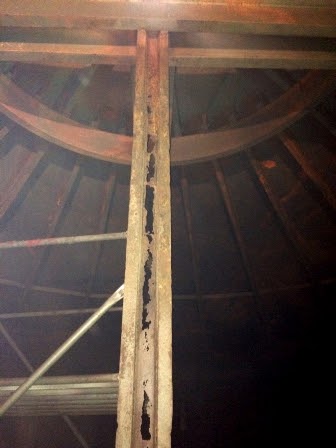 Causes
The most common causes of structural problems detectable by visual inspection are:
Subsidence or displacement of the ground.
Corrosion.
Loss of elements.
Overload.
Impacts.
Vibration.
Change of loading conditions.
Cases
Through visual inspections the most common cases of structural problems that are diagnosed are:
Tank support.
Stairs and metal walkways for personnel access to assets.
Power line towers.
Holding of exhausting fans.
Pipe support.
Duct support.
Ceilings.
Walls.
Diagnosis
The detection of structural problems in visual inspections is through direct observation.
Points to consider:
Measurements with theodolites and laser systems are generally not part of a routine visual inspection.
Include photos and comments of the structural failure in the report to specify the magnitude of the failure.