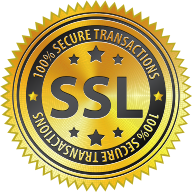 Power-MI and SSL: an unbeatable combination that provides maximum security
Power-MI uses the highest level of encryption by using SSL, whereby customers need not worry about compromising their personal and confidential information during communication.
We are living in an internet-focused world. There are instances when the web browser needs to connect securely to a web server over an inherently insecure internet connection. SSL, along with TLS (Transport Layer Security), is a widely deployed security protocol in use today.
What is SSL?

SSL stands for Secure Sockets Layer. In simple words, SSL is an encryption-based Internet security protocol that ensures privacy, authentication, and data integrity.

This protocol provides for a secure communication channel between two network nodes operating over an internal or internet network.

How does SSL work?

SSL is a transparent protocol that does not require much interaction from the user when he/she tries to establish a secure session. It is easy to determine whether SSL is present or not. The presence of a padlock on the browser bar is a clear sign that SSL is present.

For increased protection, power-mi.com uses the SSL certificate generated by the Let's Encrypt certificate authority and managed by Pantheon.io, which is known for dependable website security and uses enterprise-grade security to protect our confidential and sensitive customer data. Our power-mi.com SSL certificates are automatically renewed at least every 2 months.

It verifies that the user is corresponding directly with the server that he/she wants to connect to.

It makes sure that only the server can read what the user sends, and the user alone can read what the server sends back.

It implies that the message is entirely encrypted.

Thus, even if a malicious actor intercepts the message, he may not be able to read the data that you had sent over the communication channel.

Why does Power-MI use SSL?

SSL provides the maximum level of security for users. Organizations such as Google encourage the use of HTTPS protocol to ensure the safety of its users. Power-MI uses SSL because,

It enhances the security of the website and protects data transmission on the site. This encryption discourages cybercriminals from misusing your data.

A single SSL certificate makes it safe for all subdomains.

SSL increases the credibility of the website and builds trust amongst customers.

Search engines like Google prefer websites with HTTPS protocols by ranking them higher than those that do not have an SSL certificate.

What does it mean for Power-MI users and customers?

At Power-MI, the privacy and security of our users and customers are of top priority. SSL helps us protect their personal and sensitive information from cyber adversaries.

Power-MI users and customers can rest assured that the messages they send have end-to-end encryption with no malicious actor being able to interpret the data that they transmit.

It also ensures that the user corresponds directly with the server that he/she wants to connect.

The increased level of safety encourages Power-MI users to use the website without any fear of compromising data.

Frequently Asked Questions

What is an SSL Certificate?

An SSL Certificate is a confirmation that the transfer of sensitive data of your website's visitors is over a secure network.

Is it necessary to have an SSL certificate?

Yes, an SSL certificate is useful to gain the trust of your website's visitors. Google stipulates that sites with SSL certificates get priority in search engine rankings, thereby providing a boost to your SEO capabilities.

Do I have to pay for acquiring an SSL certificate?

There was a time when the pricing of an SSL certificate was high. Now, you have initiatives that enable you to get them for free.

How do you obtain an SSL certificate?

The simplest way to obtain an SSL certificate is to check if your website hosting service provider offers one. Otherwise, many companies provide SSL certificates free of charge.